Today it's your last chance to get your Best of Bollywood freebies together at the blogs of my CT and me.
Sundaynight the freebie links will be closed...
Also your last day to get that 25% off the whole Best of Bollywood collection at Studio Berna (at Scrapbookgraphics)!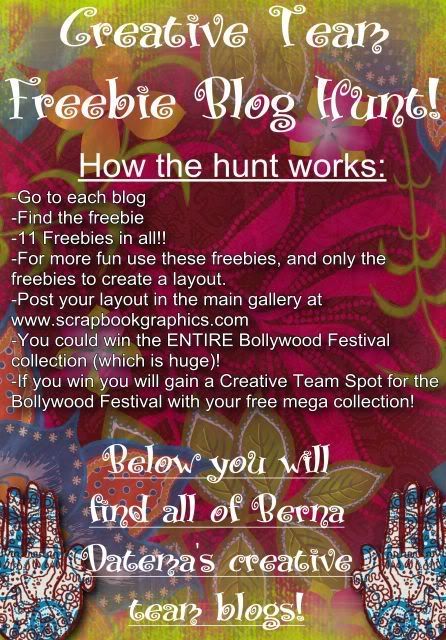 Remember: you still can join the contest untill the end of September. Upload the layout made with your downloaded Bollywood freebies to the main gallery at SBG. Make sure you don't use other stuff than only the freebies.

http://welliworld.wordpress.com/ (sonja)
http://www.amysimages.typepad.com/ (amy)
http://digicorner.blogspot.com/ (anne-c)
http://jessicadixon.blogspot.com/ (jessica)
http://www.ikscrap.nl (ingeborg)
http://www.ria-scraps.blogspot.com/ (ria)
http://kelmichaels.blogspot.com/ (kelly)
http://datebaseberna.blogspot.com (mine)
http://dawnsdigitaldesigns.wordpress.com (dawn)
http://terragina.de/blog (kerstin)
http://flamingo-amanda.blogspot.com (amanda)